If you have a High-Ticket call booking funnel & want more booked calls on your calendar... I have a special opportunity for you to have me run your paid ads.
But first... 
Here's why you should listen to me:
Oversaw $5M+ in ad spend

Specialize in book-a-call funnels for coaches & agency owners

Generated 18,000+ booked appointments
I've worked alongside:
Frank Kern

(The greatest living Direct-Response Marketer on the planet. He's responsible for millions generated online between him and his students)

Grant Cardone

(#1 sales trainer in the world, real estate mogul, & best selling author)

Kevin Hutto

(Media buying legend who had spent over $50M on paid ads)

Multiple 2-Comma Club award winners

(Award given to entrepreneurs who've generated over 7-figures in a funnel)
Zeus Marketing LLC Copyright © 2022. All Rights Reserved. This site is not a part of the Facebook website or Facebook Inc. Additionally, This site is NOT endorsed by Facebook in any way. FACEBOOK is a trademark of FACEBOOK, Inc. 
Every effort has been made to accurately represent the product(s) sold through this website and their potential. Any claims made or examples given are believed to be accurate, however, should not be relied on in any way in making a decision whether or not to purchase. Any testimonials and examples used are exceptional results, don't apply to the average purchaser and are not intended to represent or guarantee that anyone will achieve the same or similar results. Each individual's success depends on his or her background, dedication, desire and motivation as well as other factors not always known and sometimes beyond control. There is no guarantee you will duplicate the results stated here. You recognize any business endeavor has inherent risk for loss of capital. Basically, we can't FORCE you to TAKE ACTION, so therefore we cannot promise success. 
"Since Hiring Edwin, We Just Had Our Best Month Ever. I Did $400k In Revenue This Past Month. It's By Far More Than We've Ever Done."
Chaz was able to close a $3k deal for his consulting agency in his first 7 days:
Dr. Long was able to generate 29 qualified leads & make $11k in profit in 14 days for his medical practice: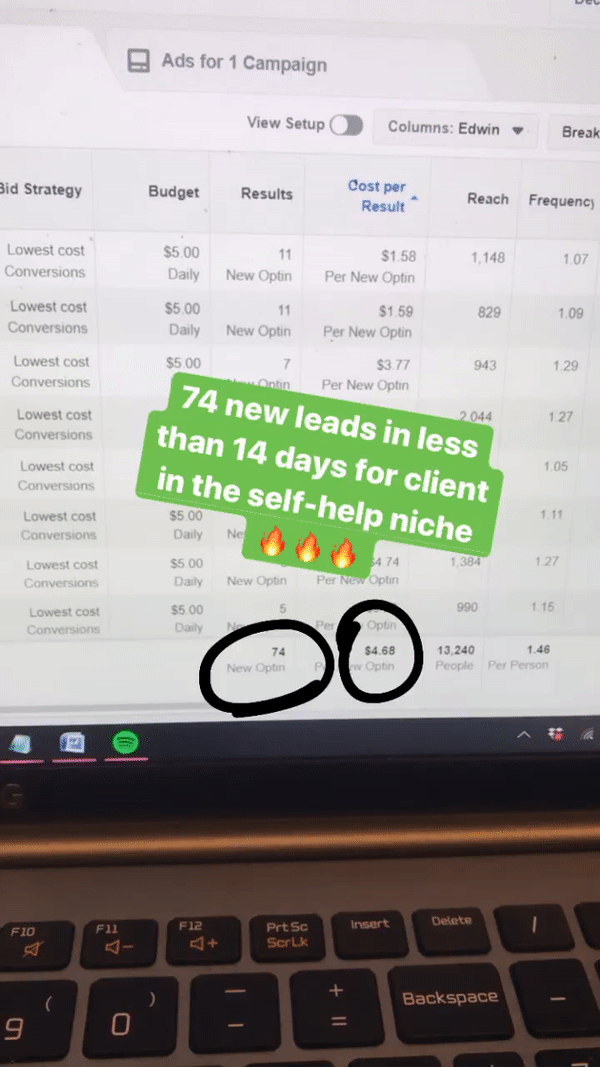 Helped the #1 Fashion & Lifestyle Influencer for Woman generate $1.2M in revenue in 7 days for her product launch:
Helped a Wedding Venue service in Texas generate $29,625 in booked weddings in 30 days:
Helped a Financial Advisor generate 29 qualified leads for his practice in 3 days:
Helped a Wealth Manager generate 22 high net-worth retirement leads in 11 days:
Helped an Online Course Expert generate 47 high-ticket sales for her premium course:
Helped a Luxury Wedding Planner generate $8k in new booked events in 30 days:
Helped a Real Estate Investment Fund generate 606 potential investors for his firm through a free giveaway for his business:
Helped a Men's Dating coach generate 74 leads for a video series in 14 days on Facebook:
Helped a House Cleaning company generate 4 new booked homes in 15 days:
Helped an Online Entrepreneur generate 2,721 leads for his free ebook for $0.93:
Helped a Real Estate coach generate 865 inbound leads for his company in 30 days:
As a result... 
I've learned what works & what doesn't to grow your business with paid ads.
If you're a coach or service provider who wants to generate high-ticket clients on demand... you must use battle-tested strategies that actually get results (not just theory).
That's what I've figured out how to do. 
Time & time again.
Want my help to run your Facebook™ or YouTube™ Ads?
Click the Button Below to Get Started:
"Edwin Is Responsible for All of Our Massive Growth When It Comes to Media Buying. I Highly Recommend Him. He Runs Over $100,000 a Month for Us and He's Scaling That. He's Fricken Amazing!​"